Online Coaching
One on One coaching directly from me with weekly progress check-ins, where I will custom design your workout and nutrition plans to your goals.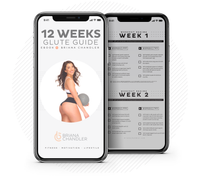 Mission Statement
My journey with fitness has been complicated. I started working out because I was gaining weight in my stomach and face due to emotional eating. I felt uncomfortable in my own skin and knew I needed to make a change. When I found the gym, I began to gain muscle in all the right places, but then I got into a relationship and stopped prioritizing myself. I kept working out, but with my anxiety at an all-time high, I dropped 30 pounds and lost who I was.
My coaching is built on self-healing and continuous improvement. We'll build our bodies back with constructive habits, healthier foods, and stronger workouts. No matter what brought you down, I want to be your bridge from destructive behaviors to self-empowerment. My personal health improved when I started to let others in. Now it's my mission to be the one you let in, so we can all rediscover our best selves again.
EXPLORE
Real people, real results
Today was my first day starting the program! Let me just say this, IT KICKED MY BUTT...and that says a lot on the first day. I was literally exhausted. I am so excited to see my results"

Audri
I love your glute guide... and how my butt and legs look in my jeans lol. My hamstrings have always been a problem area for me and every time I do your workouts, I can actually feel them being impacted!"

Ana
I'm SO tiny that it's really hard for me to gain anything, but ever since I started doing your program..I've noticed significant growth! And I've never gotten as many compliments!"

Dallila
My sister and I FINALLY purchased your booty plan and I want to say thank you, but I also want to tell you I hate you because I'm in SO MUCH pain. Seriously though, the plan is amazing. I've been working out for over three years and I feel like I'm seeing results quicker than before! You're awesome thank you. We are on week 4 and I can already see a difference!"

Kate
Hi!! I started your guide once, but only did the first 2 weeks (I travel a lot and I don't get the chance always), this time I stayed in one place for four weeks, so I did your workout all this time and I can't believe how much my butt has changed in ONLY 8 WORKOUTS!! I didn't believe it could be possible, I am so HAPPY!! I will try my best to complete the 12 weeks and repeat it if it's possible. THANK YOU!!"

Meely
I've been wanting to buy your program for so long! I finally did it, and omg I feel amazing. I love how it's two days a week. I'm student teaching right now and commute 30 minutes to school everyday. I figured out a plan so that I am in the gym two days a week and doing HIIT and home workouts for the rest of the week. I am also going on my first vacay ever in January! I can't wait to see how my body transforms in the next couple of months. THANK YOU for this program. I am already in love."

Emily
BODY TRANSFORMATIONS