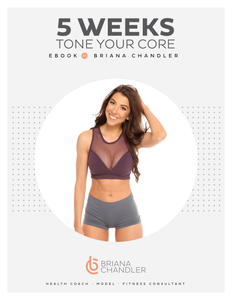 5 WEEKS TONE YOUR CORE - includes HEALTHY EATS
Regular price $64.99 $49.99 Sale
Description
The 5 Weeks Tone your Core Program is a downloadable Ebook that includes multiple comprehensive written workouts as well as instructional videos for these. Each week provides you with three days of both high and low intensity core strength training to incorporate within your weekly workout routines. A suggested list of dynamic warm-ups & cool-downs is also included. These workouts can be done from the convenience of your home, at the gym, or even on the go if you have a busy lifestyle!
In addition, this program includes the Healthy Eats Ebook (touches on flexible dieting, macronutrients and micronutrients, protein/fat/carb intake, importance of fiber, how to calculate caloric intake based on your fitness goals, sample grocery list) along with BONUS content which covers the following: 17 tasty & efficient protein packed meals, easy portion control method, suggested supplements, and more!
In order to achieve the best results: stay committed, focused, and dedicated throughout the entirety of this program both training and nutrition wise. This program will come to your email immediately after purchase. Be sure to save this program to your phone or tablet to ensure easy accessibility!